A few years ago I had a little food business going from our house. Loved it! One of the many offers was a meze platter, various middle eastern appetizers. One day as someone picked up their platter, I added some Greek salad as an extra treat on the side. (We love Greek salad at our house and had some tonight: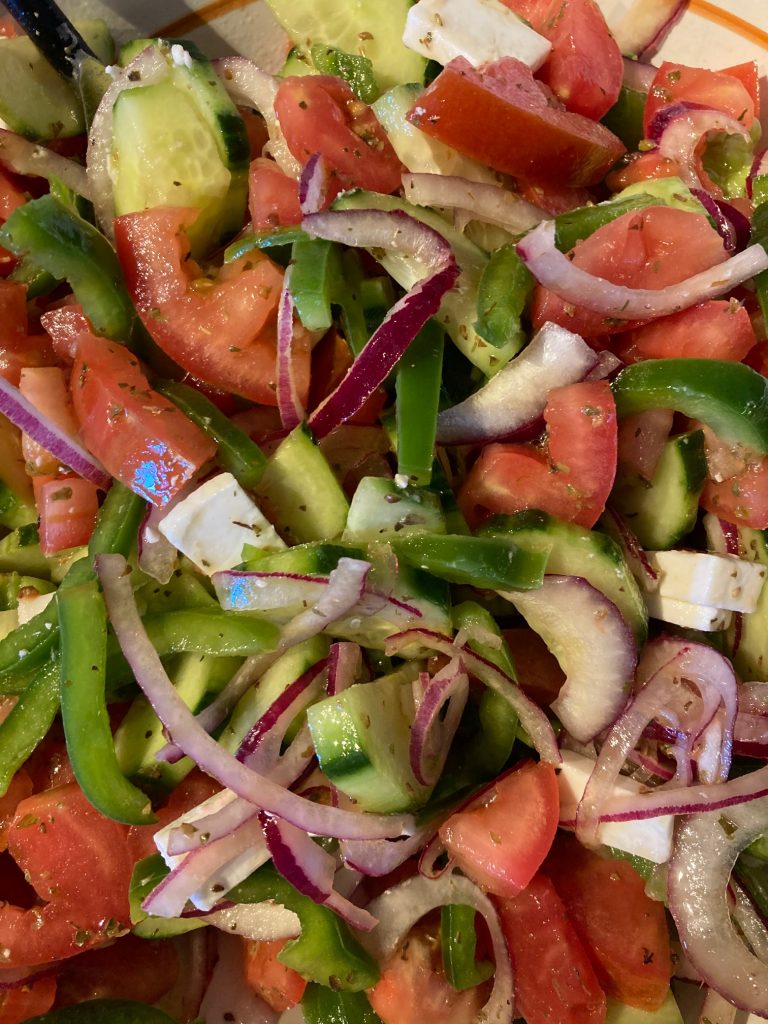 Her response was to say how horrible the salad looked. Here I thought I would get a thank you. She also said if I ran a restaurant or deli and served this, she wouldn't have come back.
I have never forgotten this experience and still carry it around as baggage. Every time we have a Greek salad this conversation goes through my mind.
We also had a chard/kale pie. I used to make this a lot, but like with some foods, one forgets. Then once in a while I come across the recipe or notice I have too much chard. Today I wanted to use all our chard and kale, so I chopped them up and also found a bunch of Thai basil that I hadn't used and couldn't think of using in anything else, so why not?
We are fully vegan now, kind of. I definitely don't eat eggs anymore, so I replaced them in this dish with a substitute of 1 tablespoon of ground flax with 3 tablespoons of water. We really had a lot of greens, and I ended up needing 6 "eggs."
I put all the cut up greens in a big bowl and add about a cup of chopped green onions and 2/3 cup of gluten-free flour. Mixed that.
In a measuring cup I mixed the "eggs" and let them sit for a while, then added 4 tablespoons brewer's yeast, salt and pepper, hot pepper flakes, a bunch of garlic, and about 4 tablespoons of chopped red onions. I mixed this concoction with the greens and then fried this in a pan for 5 minutes each side, covered.
I mixed horseradish with vegan aioli and topped this on the finished pies.
These are some leftovers: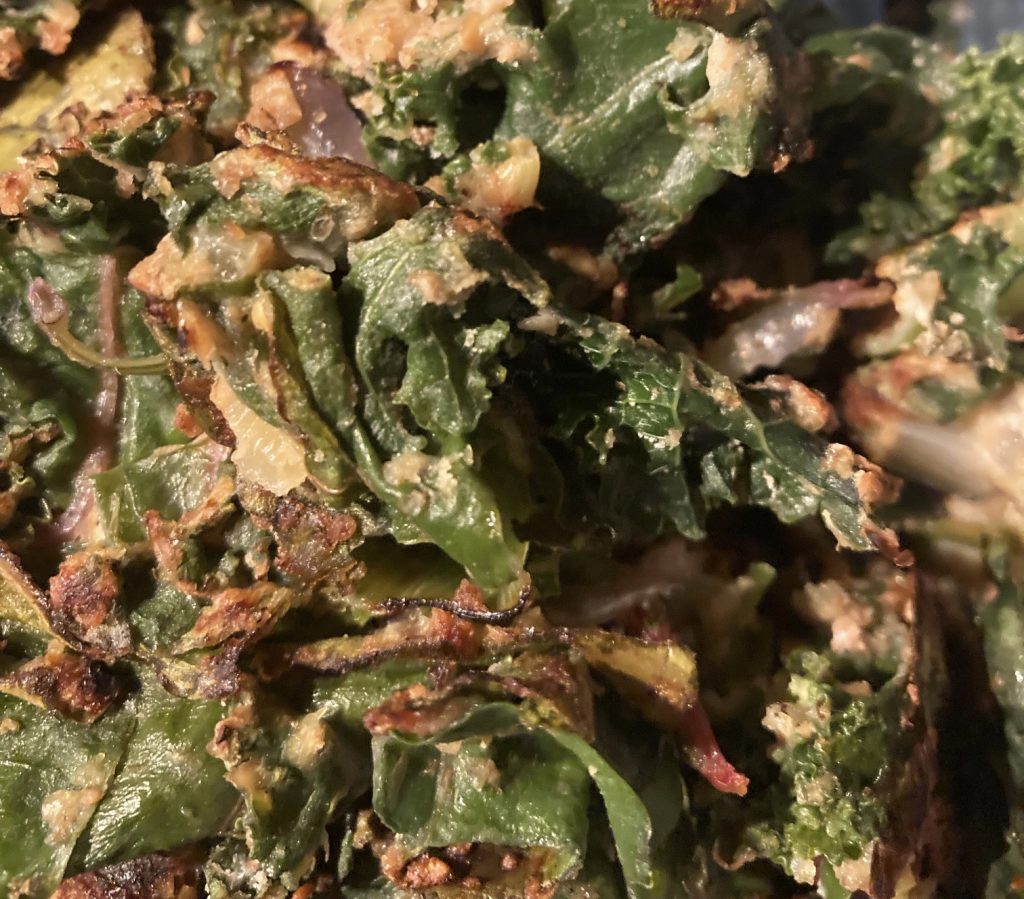 Looks like a mess but tastes good. Here is what they used to look like with the real eggs: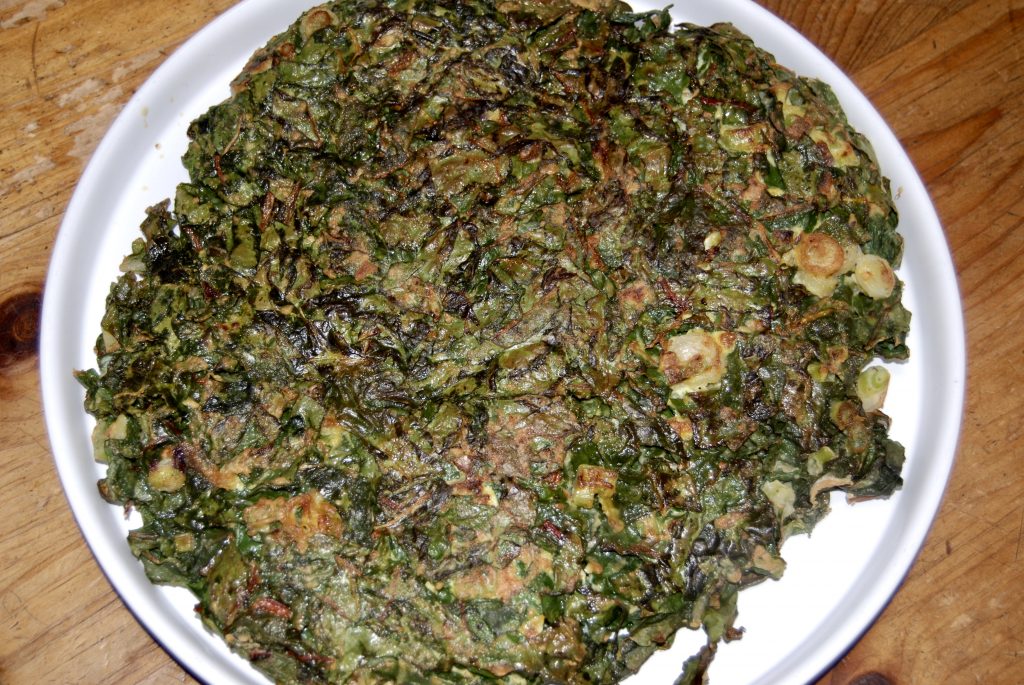 We had a tree cut down recently and the wood from it is stacked out front. I put two pieces aside to use for extra seating when parties are starting again. One can wish, right?
Today we came across a man in our neighborhood who was hauling away wood. We told him he can have some of ours, but that it's pine. He said no problem, if he can carry and lift it into his truck he would do it. We still have a contract with the tree cutter who will haul it away eventually. But why not sooner, we thought.
After we got back from our walk, my seating was gone but the rest of the wood was still there. I had to laugh because why would he take only that? But what is gone is gone, and is good. And those parties I envision? If they really ever happen, I will buy seats if we're short.
I have picked up Stephen's sweater again and I'm making progress with knitting the front. Could be done by tomorrow, and then it's on to the arms. After that, my least favorite part: picking up the stitches for the collar and sewing the arms on.
What is the opposite of end spurt? End crawl? That's me, crawling to the finish line.