What makes Wordle so addictive to me? It only happens once a day, and usually I can guess the answer within 6 tries. It becomes exciting when I can get the answer in 3 and at times even 2 tries. Never guessed the word from the start. That may be a big ask.
Stephen took advantage of this daily activity by sending me the New York Times mini crossword puzzles. And they're growing on me. Though I refuse to tackle anything bigger than the mini ones. Of course when Stephen does the regular crosswords, I do try to supply answers to any german, french, cooking, or craft questions.
Facebook is pissing me off again. But for me it is the easiest platform to stay in touch with people. Post some recipes, updates on my private life I'm willing to share. Right now I would love to switch to this blog as a daily activity. We'll see.
Medically, it has been up and down. Scared and relieved. So what were my potential kidney problems are ok. But kidney stones were discovered. Further tests will be done and possibly the destruction of these stones. Though I have to wonder: how long have I had them, and since they never bothered me should we leave well enough alone?
On the knitting front: I made huge progress with Stephen's sweater right at the start. But since the best way to knit his sweater is by sitting at the table, I needed a break. My back starts hurting, and overall it gets uncomfortable.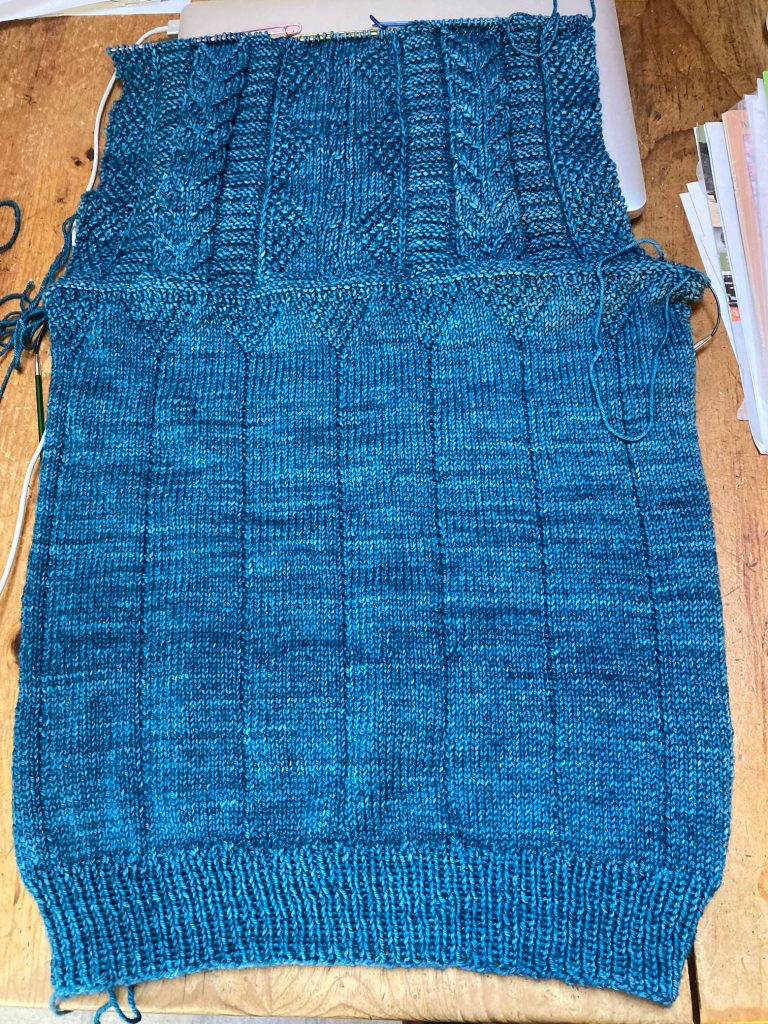 I switched to finishing the socks that were staring at me daily and almost screaming out to finish them. Ok, Ok, I said and did just that.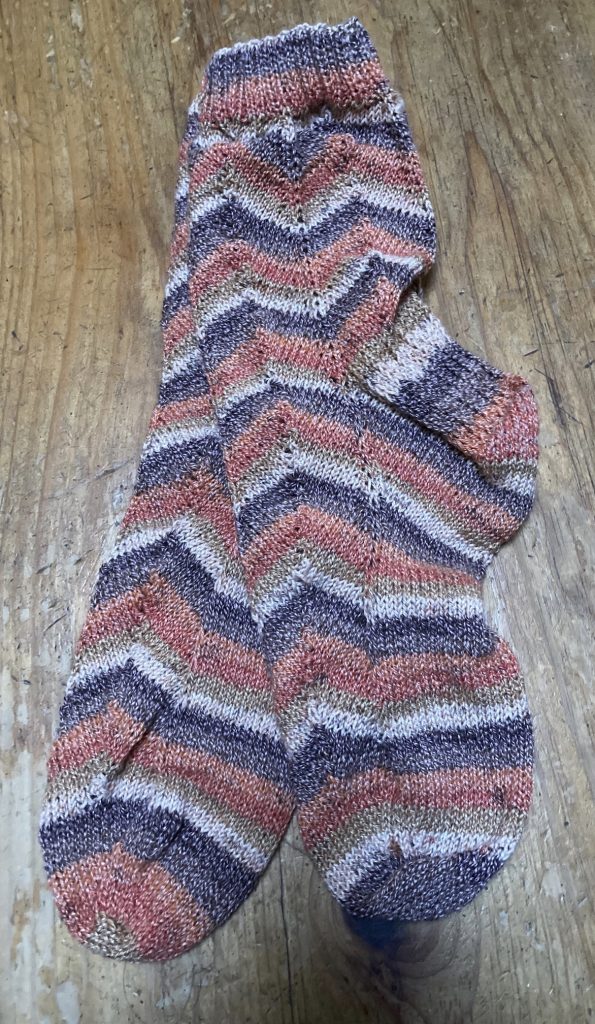 While finishing those socks, other projects reared their ugly heads, projects I had been avoiding. Like the fuzzy feet slippers at Knitty. I needed to fix for Christy. They have been sitting around for a few years now. It is hard to fix felted slippers, as it turns out. Unraveling is not easy, as the yarn is stuck to itself. But i'm making progress. In another few years she'll have her slippers back. She's young and will get to enjoy them for another while. But full of guilt, I just knit her another pair. On the other hand, she likes the original colors, so eventually I'll have to work this out.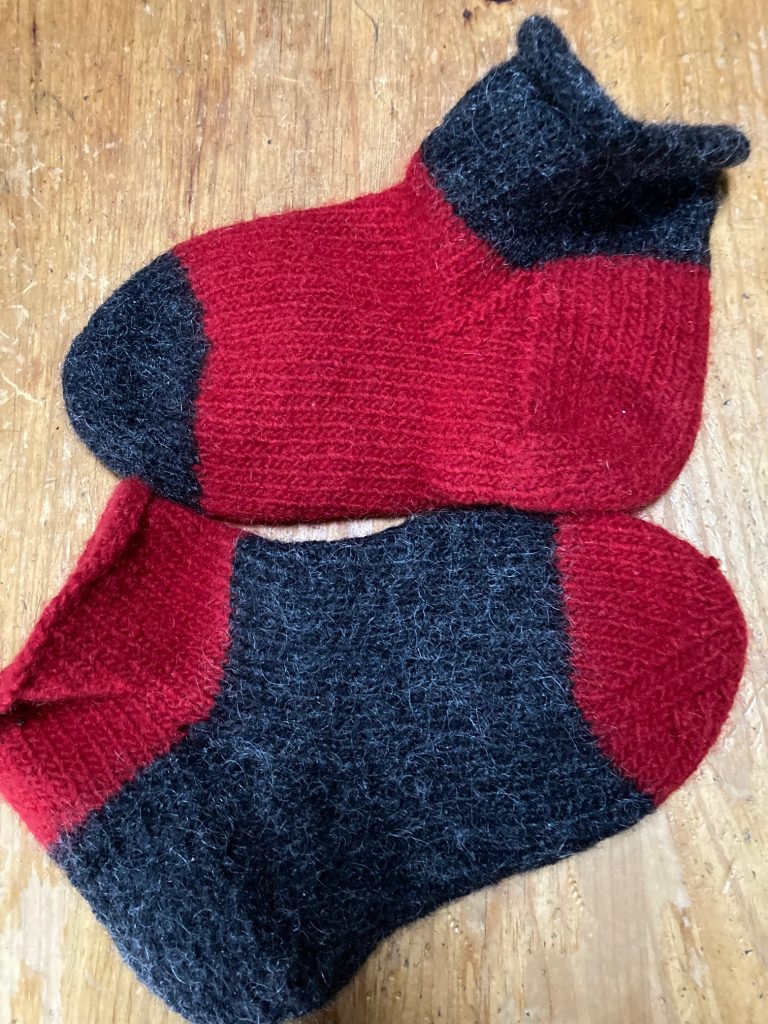 What I did manage is to start 2 more pairs of socks. How does that happen? Probably the blight of every knitter. Here were two patterns and the yarn, what was I to do? How does one resist? And so easy to knit in any position without hurting the back or anything else.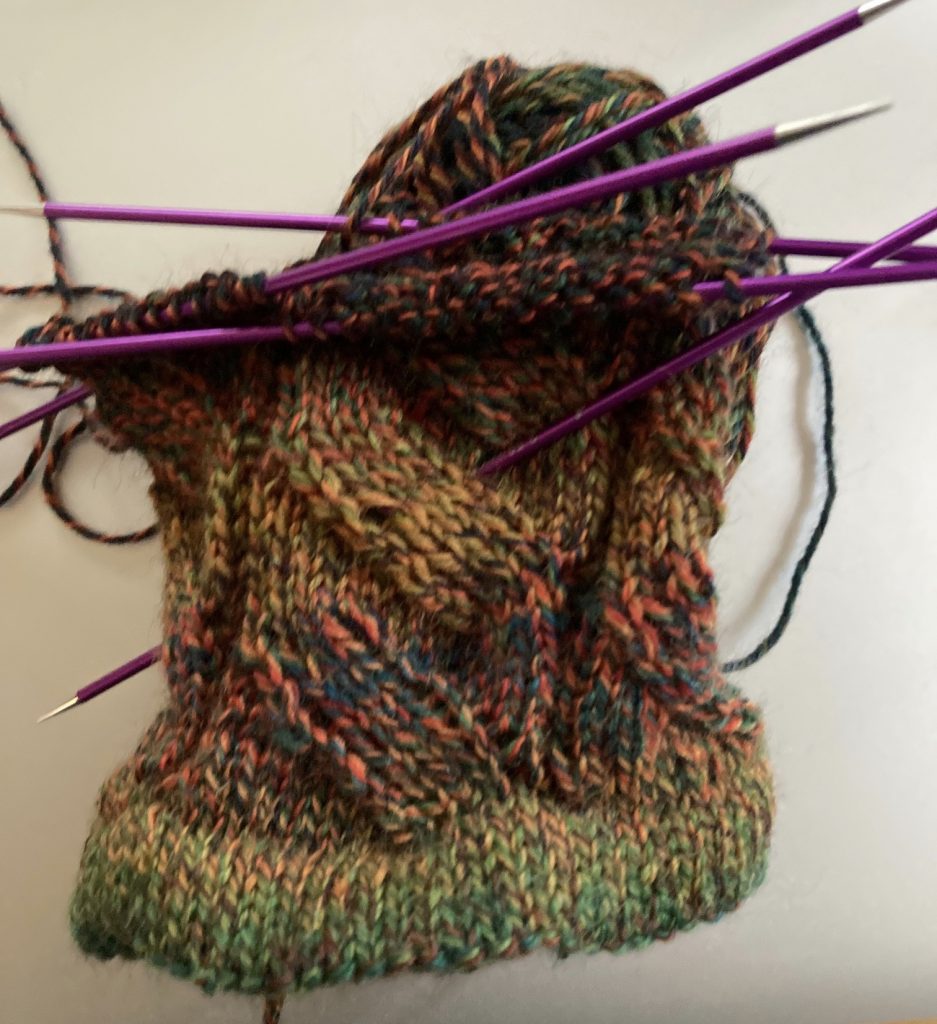 Arnold the dog is not totally thrilled with me knitting. He tries to get his head between the knitting and me. He doesn't understand what is going on. For now he's squeezed next to me on the couch, keeping me warm. Yes, the heater could use some work, but i'm hoping to put it off until fall.
Let me share two recipes that immediately became favorites.
A bok choy with tofu recipe from the New York Times.
Ingredients:
1 pound baby bok choy, quartered lengthwise through the core
Kosher salt and black pepper
1 (14- to 16-ounce) package soft (not silken) tofu, drained and cut into 4 equal squares
6 tablespoons tahini
¼ cup low-sodium soy sauce
3 tablespoons distilled white vinegar
1 teaspoon minced ginger
¼ teaspoon minced garlic
¼ cup chopped scallions (from about 1 scallion), plus more for garnish
¼ cup chopped cilantro, plus more for garnish
Toasted white sesame seeds, for garnish
In a large skillet with a lid, arrange bok choy in an even layer to cover the bottom of the pan, and season with salt and pepper. Nestle the tofu pieces on top of or in between the bok choy, depending on the depth of your pan. Add ½ cup of water to the skillet and bring to a boil over high heat. Cover securely to prevent steam from escaping, reduce heat to medium and steam until bok choy is tender and tofu is warm throughout, about 10 minutes.
Meanwhile, in a small bowl combine tahini, soy sauce, vinegar, ginger, garlic, scallions, cilantro and 1 tablespoon of water. Whisk until well blended, and season with salt and pepper to taste.
Using a spatula or large slotted spoon, transfer bok choy and tofu to 4 serving plates. (Discard any remaining water in the skillet.) Spoon some of the sauce over the tofu and garnish with scallions, cilantro and sesame seeds. Serve warm.
The other recipe has a link: